No Mountain Too High
A Father's Inspiring Journey Through Grief
Ned Levitt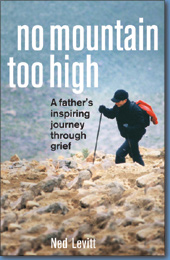 For 48 years, Ned Levitt led a charmed life. He was a partner in a successful law firm, and he and his wife, Cheryl, were the parents of three beautiful and talented daughters who shared their enthusiasm for sports, creative expression, and cottage life. Then, on August 30, 1995 , an event shook Ned to his foundations, threatening the stability of his family, his career, and his own mental health. Stepping off a curb to cross the street while out for a jog, his beautiful 18-year-old daughter, Stacey, was hit and killed by a car.
Ned recounts the traumatic shock, the surreal experiences of identifying his daughter's body, attending her funeral, and sitting Shiva for her, and then the awful awakening into the unrelenting reality of grief: How can I live the rest of my life without my daughter?
Emerging from a year filled with thoughts of suicide, Ned began a journey of survival, healing, and redemption. After he and his wife published Stacey's poetry, he began to reach out to other bereaved parents. And he travelled to Mexico to complete Stacey's unfinished climb up Mt. Ixta , where he left a memorial to her: a box containing a copy of her poetry book and note paper and pens, leading to thousands of notes and letters from mountain climbers and others inspired by her life.
No Mountain Too High tells the story of who Stacey was, the special bond of love between Ned and her, the horrible pain he experienced in losing her, and the struggle to survive and find meaning again in life. It will serve to inspire others to find a path through their problems, appreciating that life is precious, to be lived to its fullest, with every moment savoured.
NED LEVITT, a leading Toronto lawyer who has published many books and articles in his field, is a frequent speaker for bereavement groups and on television and radio. His climb up Mt. Ixta was the subject of a TV documentary, I Am a Rose , which was jointly funded and aired on CBC TV and Vision TV. He is an active member of the Steering Committee for Bereaved Jewish Families of Ontario.
No Mountain Too High may be purchased at the following online retailer(s):
The book is also available at:

Book City
501 Bloor W
Toronto, ON
M5S 1Y2

Phone: (416) 961-4496

OR
By sending a cheque payable to Ned Levitt, along with your mailing address to

Ned Levitt
516 Briar Hill Avenue
Toronto, Ontario
M5N 1M9

Phone: (416) 865-6701.

I Am A Rose $16.95 and No Mountain Too High $22.95